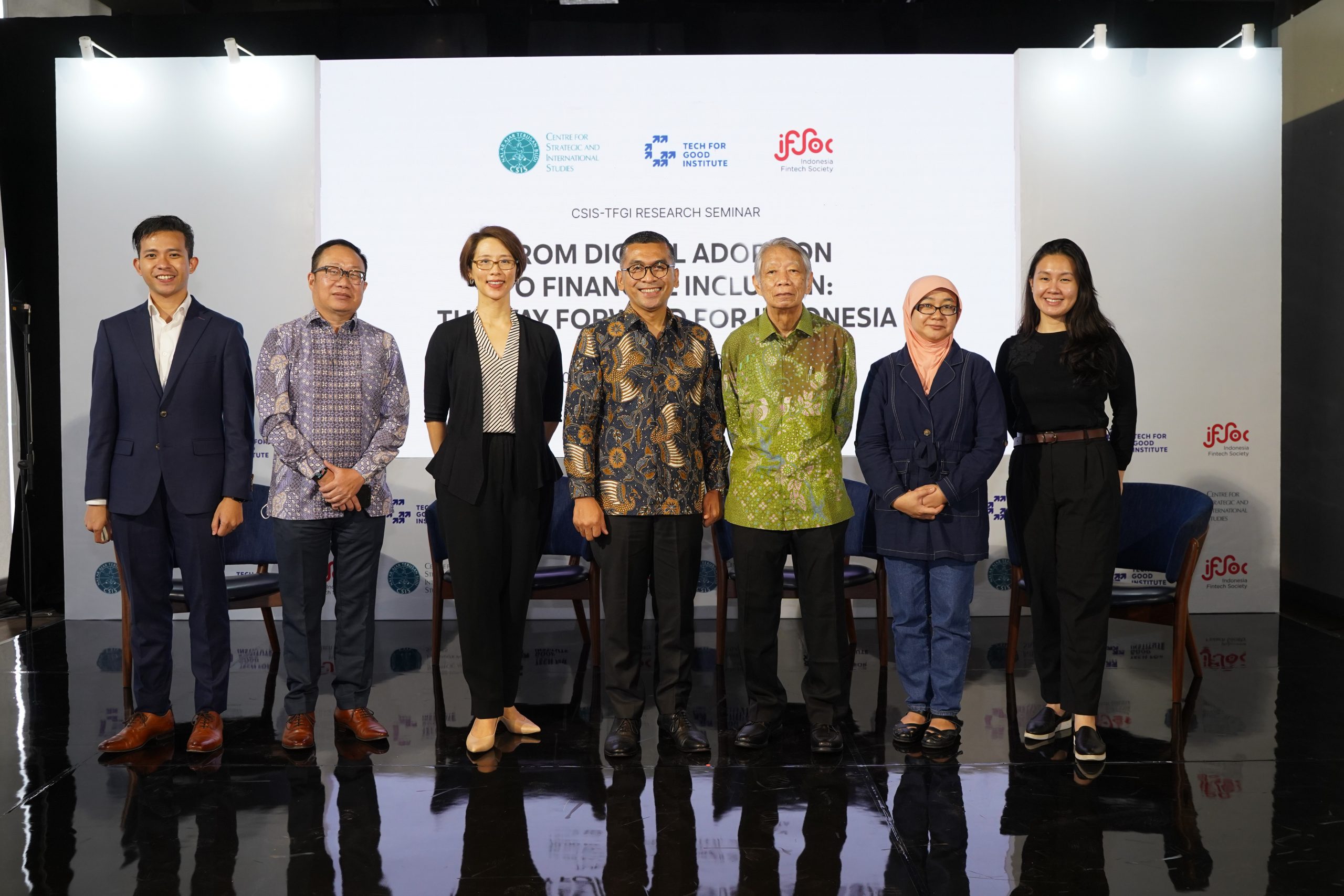 Amidst the rapid digital transformation in the region, there are still areas for improvement in Southeast Asia to foster an inclusive digital society. For governments, one of the key challenges is to ensure digital adoption leads to financial inclusion. Currently, around 60-70% of the population in Southeast Asia is still underbanked or remains underserved by traditional financial institutions. To address this,  the use of digital financial services (DFS) offers an opportunity to not only serve the unbanked and underbanked, but also empower the micro, small and medium enterprises to participate in the financial market and economy.
With a spotlight on Indonesia, the Centre for Strategic and International Studies (CSIS) and the Tech For Good Institute (TFGI), with the support of Indonesia Fintech Society (IFSoc),  jointly hosted a research seminar in Jakarta.  The seminar focused on the importance of digital and financial adoption, based on the findings of two recently published research pieces: 1) TFGI's Digital Financial Services for Financial Inclusion Report and 2) ISEAS-Yusof-Ishak Insitute's Financial Technology Adoption in Greater Jakarta: Patterns, Constraints and Enablers. The event also featured a panel discussion on how Indonesia can promote  digital technologies and leverage it to advance financial inclusion.  
Presenters and speakers:
Dr. Yose Rizal Damuri, Executive Director of CSIS

Mr. Rico Usthavia Frans, Steering Committee of Indonesia Fintech Society (IFSoc)

Dr. Astrid Meilasari-Sugiana, Visiting Fellow at ISEAS-Yusof Ishak Institute

Mr. Edwin Nurhadi, Director of Financial Inclusion Development at The Financial Services Authority (OJK) 

Mr. Karaniya Dharmasaputra, Steering Committee of Indonesia Fintech Society (IFSoc)

Dr. Raymond Atje, Senior Research Fellow at CSIS 

Dr. Medelina K. Hendytio, Deputy Executive Director of CSIS

Dr. Ming Tan, Executive Director of TFGI

Mr. Matin Mohdari, Strategy Director of TFGI

Ms. Melissa Tan, Research Fellow at TFGI
Key insights from the seminar:
Digital literacy is a prerequisite when it comes to digital adoption.

A minimum level of knowledge and familiarity with digital technologies is needed for consumers to start adopting and using DFS products like e-wallets, investments, insurance, and loans. It is important that Indonesia address the digital literacy gap in the country to ensure that unbanked and underbanked consumers can participate in the formal economy.  
Consumer protection is important in light of cybersecurity threats. Consumers in Indonesia have expressed concerns over data leakage and fraud as they continue to use more fintech products

. Investments in consumer protection and cybersecurity can be prohibitively expensive for smaller businesses due to the cost of complying with consumer protection regulations. Therefore, it is important that there is collective action among industry players to address cybersecurity concerns and promote information sharing between the public and private sectors. 
In order to minimise disruptions in delivery of goods and services, regulators need to ensure smooth transition to digital adoption of fintech services.

There are associated risks with digitalisation and innovation which could potentially further marginalise already vulnerable consumers. For example, rapid digitalisation of government services without ensuring equitable digital access to the vulnerable segments of the society may introduce friction and lead to an unintended consequence of exclusion. It is important for regulators and providers to provide a safe and responsible fintech ecosystem to inspire trust among consumers and encourage confident adoption of DFS. 

Stakeholder coordination is key in advancing Indonesia's financial inclusion agenda.

In order to achieve Indonesia's goals, regulators cannot work in isolation. The government will need the support of the private sector and civil society. Indonesia's financial inclusion agenda is comprehensive.  In addition to financial literacy programs, the agenda also includes initiatives to improve infrastructure, introduce inclusive regulatory framework, and conduct widespread public campaigns. To carry out these programs, a holistic whole-of-society approach is crucial.