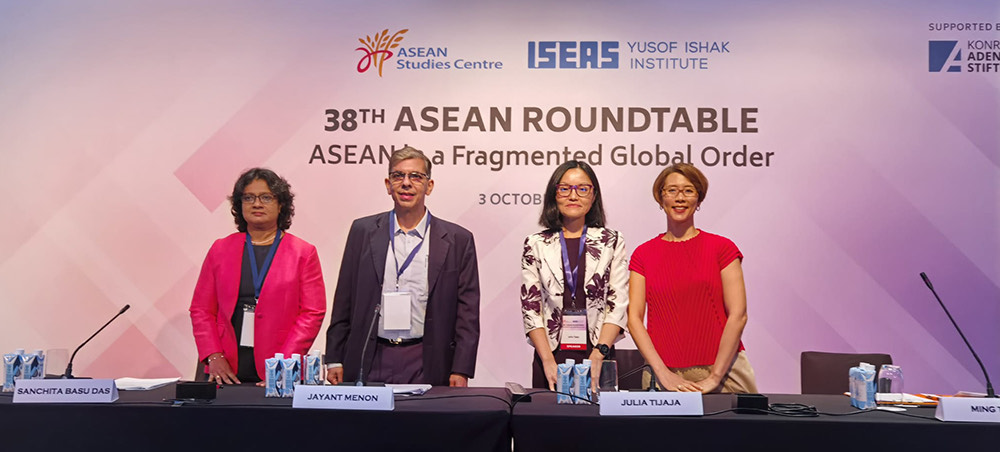 Left to right: Dr Sanchita Basu Das, Dr Jayant Menon, Dr Julia Tijaja and Dr Ming Tan
(Credit: ISEAS – Yusof Ishak Institute)
Moderator and panellists:
The roundtable discussion focused on the impact of economic fragmentation and assessed how the ASEAN Economic Community (AEC) can build resilience and find new opportunities to advance the grouping's integration and growth. 
Key takeaways from speakers:
Dr Sanchita Basu Das, Economist at the Asian Development Bank, underscored the importance of improving ASEAN's competitiveness not only to increase trade and investment in the region but also to enhance the "plus" arrangements – ranging from the harmonisation of standards to the advancement of domestic reforms. She also highlighted the need to focus on people-centric deliverables, sustainable and green economy, as well as to strengthen policies such as in the area of supply chains.
Dr Julia Tijaja, ISEAS Associate Senior Fellow, highlighted that the AEC is at a crossroads. While noting good achievements of the AEC, including new frameworks in place and positive recovery from the pandemic, she also underlined institutional shortcomings, such as gaps in the implementation of ASEAN's economic blueprints and the lack of institutional readiness to deal with cross-cutting issues. To enhance cross-sectoral cooperation, she underscored the importance of putting in place processes to deal with emerging challenges, being proactive in shaping rules and standards, and strengthening ASEAN as an institution.
Dr Ming Tan, Founding Executive Director of Tech for Good Institute, highlighted digitalisation as the driver of economic growth but emphasised that it is not an end in itself. Although there was a high rate of digital adoption and penetration, she believed there was a need for ASEAN to be more connected and digitally interoperable. This would enhance ASEAN's attractiveness as a market and increase its voice in shaping the digital landscape. With such rapid developments, human capital requirements, such as cybersecurity expertise, will be of utmost importance going ahead.
To read more about the key takeaways from the other roundtable discussions, click here.
This article is contributed by ISEAS – Yusof Ishak Institute (ISEAS)