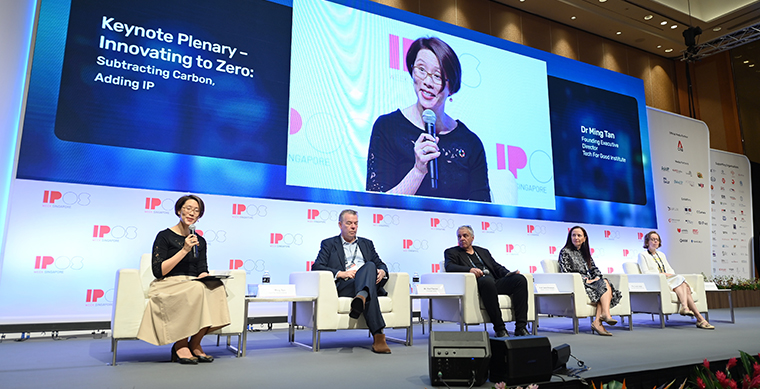 By Ming Tan, Founding Executive Director, Tech for Good Institute
The need to chart new pathways to low-carbon and inclusive growth is particularly urgent in Southeast Asia. Energy-related emissions from Southeast Asia are expected to more than double by 2030, as governments pursue development agendas for some of the fastest growing populations in the world. Together with emissions over decades by advanced economies, the rise of man-made greenhouse gases in the atmosphere has been linked to our region's increasing natural disasters. 
Our age is what many now call the Anthropocene, the period when human activity has had a significant impact on our planet's climate and ecosystems. It is through human activity that global warming and climate change threaten the lives, livelihoods, and ways of life of current and future generations.
And yet, what enabled humans to have such an impact on our planet may also be what we need in order to address this existential challenge of our times–our ingenuity. 
Humans are unique in our capacity to build on existing knowledge to innovate. From stone tools onwards, human ingenuity has allowed us to survive and thrive through resource scarcity, climatic changes, challenging landscapes, and ecosystem instability.
How might we use our ingenuity to meet what John Doerr has called the "mother of all OKRs" – to halve our carbon emissions by 2030 and to be carbon-zero by 2050?
Innovation is a social endeavour
The goal of innovation is not to create something new, but to do something better. As Hebrew University of Jerusalem's Professor Oded Shoseyov quoted, "The stone age did not end for lack of stones. Our reliance on fossil fuels should not end because we are running out of oil, but because we have invented better solutions." 
Indeed, human ingenuity is best employed in the service of our society. 
Yet, who determines what "good" might mean? Are the interests of end-users of technologies balanced with shareholder interests of companies working for commercial return? How might governments meet the current needs of the electorate while stewarding  resources for future generations? 
This is where citizens play an important role. The policies of the day can either reflect today's current state, or be a catalyst for change. To that end, though the climate crisis is transnational in nature, local solutions are needed if they are to reflect the values, cultures, and aspirations of the community. 
Innovating to zero needs IP and other intangible assets
The past decade has seen a rise in intellectual property (IP) filings related to environmental goals, driven by investments into environment, social, and governance (ESG) focused initiatives. 
According to the World Intellectual Property Organisation, international patents filed in renewable energy rose 547 per cent between 2002 and 2012. Green energy and energy-efficient technologies saw similar growth. However, innovation gaps remain, such as in the fields of energy storage and carbon sequestration in oceans. 
While we have seen the rise of technical inventions over the last two decades, impact is only realised when inventions are brought to market and customers adopt new solutions. At first glance, IP protection poses a tension between allowing proprietary rights for return on investment and the need to advance the public good. Yet, IP incentivises the innovation so that smaller companies can stand their ground against larger incumbents. IP also provides the framework for different modalities of partnership so that innovation may be brought to market, from licensing to sharing trade secrets. 
A whole portfolio of intangible assets: patents, data, know-how, relationships and brand–to name a few–need to work together to shift customer expectations. The good news is that the market is responding to this huge and urgent opportunity, as evidenced by capital flows attesting to the commercial viability of investments in ESG innovation. 
Digital technologies can be a horizontal enabler to realise impact
The paradigm shift we need to see in all sectors will be realised through thoughtful innovation at each incremental step across the supply chain. Nano-cellulose, for example, is not only exciting in its potential for regenerative flexible packaging, but its impact is amplified by identifying waste paper pulp as a raw material.  Traceability across the supply chain and circular models are increasingly important for compliance, supply chain resilience, and customer satisfaction. Digital technologies and data are critical to enabling confidence in traceability. 
Trusted data is also vital for effective carbon markets. Direct-air capture technologies can remove historic CO2 emissions at scale, while light detection and ranging (LiDAR) sensors can monitor forests digitally for carbon stock monitoring and generation of carbon credits. At the heart of many of these solutions is verifiable data. Just as importantly, digitalisation's ability to scale matches the urgency of addressing the climate challenge and the potential of these technical advancements. 
Sustainability is inherently complex. We are juggling multiple objectives for peace and prosperity for people and planet, with multiple stakeholders and multiple timelines. We need urgent action to address immediate challenges, while taking a long-term view for how decisions impact future generations. Sustainability thus requires a systems approach to understand how the issues are interconnected, how initiatives and policies can align and be coherent, and how to weigh imminent and downstream risks. Digital technologies are uniquely suited to support such complex challenges. 
At the Tech for Good Institute, we believe that digitalisation and sustainability are likely to be basic operating assumptions for all businesses, big or small, established or startup.  All these are critical if we are to enable inclusive prosperity in Southeast Asia in an ecologically sustainable manner.