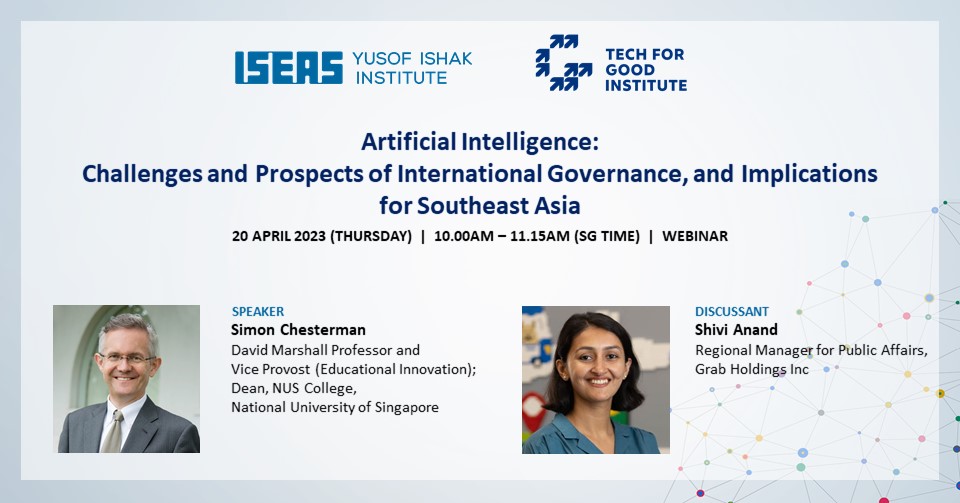 Co-organised with ISEAS – Yusof Ishak Institute (ISEAS), the Tech for Good Institute invites you to the Artificial Intelligence: Challenges and Prospects of International Governance, and Implications for Southeast Asia webinar.
Artificial Intelligence (AI) has dramatically changed our everyday life. New AI-driven technologies such as the ChatGPT have triggered heated debates and concerns about the potential implications of AI on our society. The complex nature of AI has raised deep moral and legal questions in terms of ownership, entity, accountability and governance. In the absence of guardrails and international governance, AI could potentially affect socioeconomic and geopolitical stability. Policymakers are struggling to improve the governance of AI amidst market-driven accelerations in AI invention and innovation.
This webinar will discuss how policymakers could meet the challenges of AI governance and shed light on the need for international treaties to better govern AI use and development as well as the roles that policymakers and regulators in Southeast Asian countries could play.

About the Speaker
Prof Simon Chesterman is David Marshall Professor and Vice Provost (Educational Innovation) at the National University of Singapore, where he is also the founding Dean of NUS College. He serves as Senior Director of AI Governance at AI Singapore and Editor of the Asian Journal of International Law. Previously, he was Dean of NUS Law from 2012 to 2022 and Co-President of the Law Schools Global League from 2021 to 2023. Educated in Melbourne, Beijing, Amsterdam, and Oxford, Professor Chesterman's teaching experience includes periods at the Universities of Melbourne, Oxford, Southampton, Columbia, and Sciences Po. From 2006-2011, he was Global Professor and Director of the New York University School of Law Singapore Programme. Prior to joining NYU, he was a Senior Associate at the International Peace Academy and Director of UN Relations at the International Crisis Group in New York. He has also worked for the UN Office for the Coordination of Humanitarian Affairs in Yugoslavia and interned at the International Criminal Tribunal for Rwanda.

About the Discussant
Shivi Anand is Regional Manager for Public Affairs at Grab. She leads strategic advisory and policy advocacy efforts on key public policy issues, including data protection and AI ethics, with the potential to impact Grab's operations across Southeast Asia. At Grab, she has led engagement with the Singapore government on data and AI governance issues and carried out thought leadership efforts to advance Grab's public position on data protection. Prior to Grab, she worked in India's Ministry of Skill Development & Entrepreneurship, and in research and the non-profit sector in the Bay Area, California. Shivi holds a Bachelor in Engineering from BITS Pilani India, and a Master in Public Policy from the Goldman School in UC Berkeley.