Southeast Asian governments face the dual challenge of driving development agendas for their populations while responding to the effects of climate change caused by the greenhouse gasses emitted over decades by advanced economies. Today, SEA is one of the most vulnerable regions in the world to climate disasters.
With eight out of 10 ASEAN member states at COP26 committing to net zero targets by 2050, low carbon inclusive growth is vital for sustainable climate resilience. Digital innovation can be a key enabler in this transition, from achieving operational efficiency to transforming whole industries and managing the impact of climate change.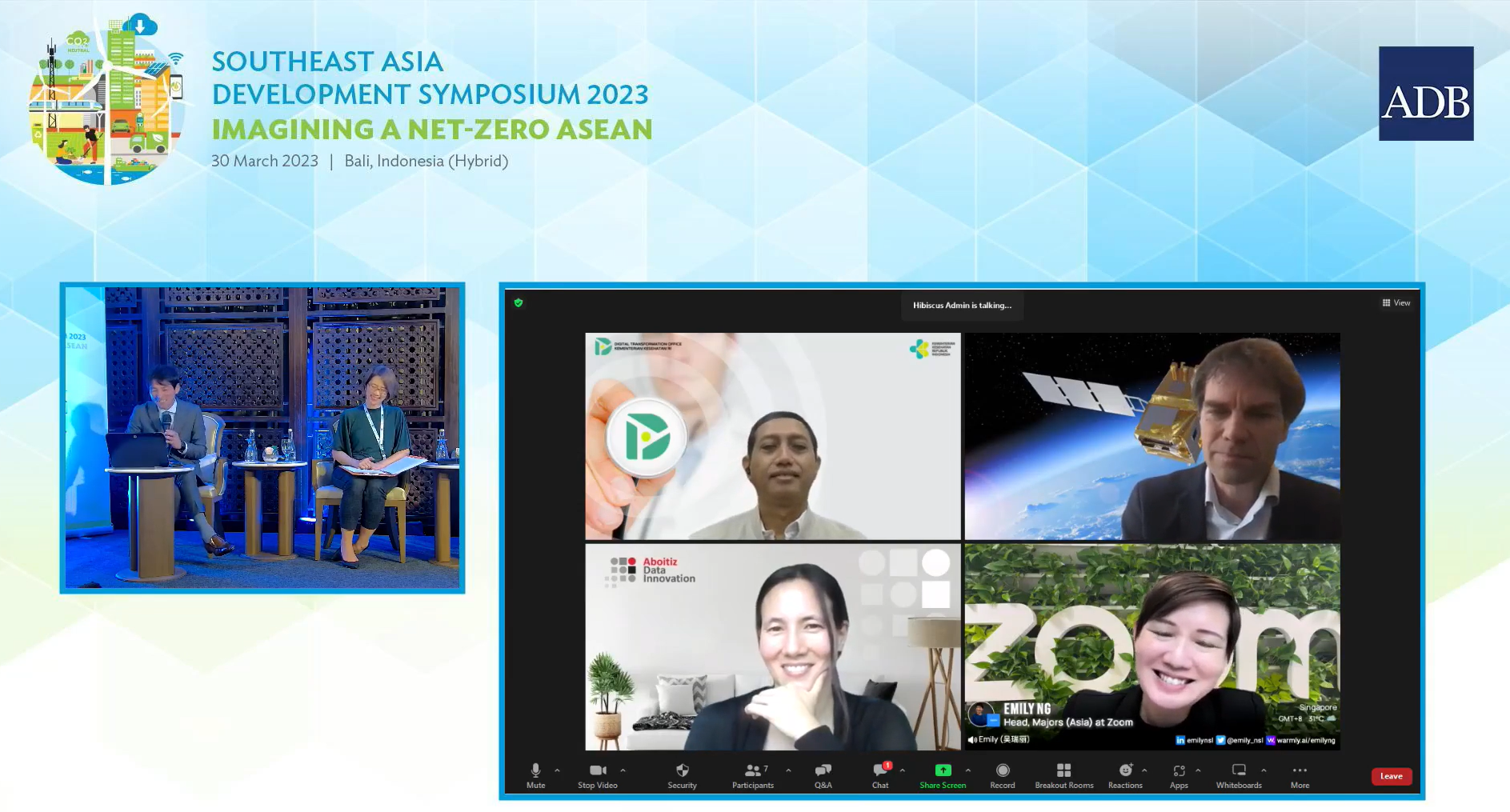 Top left to right: Akito Tanaka, Senior Staff Writer and Chief Business News Correspondent, Nikkei Asia; Dr. Ming Tan, Executive Director of TFGI; Setiaji Setiaji, Chief, Digital Transformation Officer, Ministry of Health, Indonesia; Dr. Benjamin Koetz, Head of Sustainable Initiatives Office, Earth Observation Directorate, European Space Agency
Bottom left to right: Adrienne Heinrich, Head, AI & Innovation Center of Excellence, Aboitiz Data Innovation; Emily Ng, Head of Majors Accounts for Asia, Zoom
Moderator and panelists:
Key insights from the panel:
Digital platform companies play a critical role in pivoting consumers and MSMEs towards more sustainable consumption habits and business models
SEA has approximately 71 million micro, small and medium enterprises. They account for 97% of all businesses in the region and employ two thirds of the working population. A survey published in 2020 by the Carbon Trust showed that almost 90% of MSMEs were aware of the ongoing climate emergency and were supportive of efforts to address climate change. Yet the same study found that there remains formidable barriers to MSMEs doing more, especially as they lack time, money and expertise.
Digital platform companies can be influential in both digitalising MSMEs and enabling their pivot towards more sustainable practices. For instance, Logivan, the largest truck-matching platform in Vietnam, enables real-time tracking and connects independent truckers to small enterprises for goods delivery. This helped resolve previous manual matching efficiencies which were estimated to be 21% of its GDP. Through Logivan, operational efficiency was realized helping these independent truckers earn more while reducing shippers carbon emissions. Last year, it delivered almost 30% reductions in Scope3 Logistics Emissions for its clients.
Lastly, platform companies reach millions of consumers. Through their direct reach to consumers, they raise awareness and create micro-opportunities such as green initiatives for them to contribute. This helps convert intentions into actions and actions into habits.
Partnerships between private companies, public agencies, and civil societies can multiply the impact of digital innovations
Climate change is a global challenge and transnational collaboration is needed to share information and resources. Technology transfer can also bridge the financial and informational gap in technological access between advanced and developing economies. An example is the collaboration between Asian Development Bank (ADB) and European Space Agency (ESA) to collect and process satellite-based information to predict unusual weather patterns for risk and disaster management.
Secondly, partnerships allow each stakeholder to maximize their unique advantages and complement one another. This reduces cost, increases efficiency and reduces carbon footprint. For instance, Indonesia's Ministry of Health engaged with startups to leverage their manpower and digital network to implement Indonesia's Digital Health Transformation Strategy 2024. Last year, by working with startups as intermediaries, the government agency was able to contact approximately 11,000 medical facilities within 3 months to collect data and streamline medical services. This open collaboration with startups enabled the government to ensure the success of the Digital Transformation Offices's initiatives in providing quality healthcare to their healthcare facilities all over the country.
Digital innovations should be developed in alignment with local needs, business models, and regulatory frameworks
Innovations do not always have to be hyper-advanced to be effective. Effective technology meets the needs and amplifies the potential of existing businesses. Such innovations are fit-for-purpose – one that makes existing industries more environmentally friendly while enabling new industries to support the collective Net Zero ambition.
For instance, Aboitiz Data Innovation implemented AI solutions in the Philippine cement industry which is known to be heavy and traditional. Their predictive modeling tools allow local manufacturers to decide the right mixture and timings to create the most optimal and consistent mixture of cement. This helps to reduce operating costs and carbon emissions along the process.
Other innovations might be more transformative. Platform companies can support structural transitions, such as the future of work and the shift to cleaner mobility. Communications platforms such as Zoom are changing how we work, interact and even plan offices, reducing commuting and office footprints. Grab uses its data to help electric-vehicle charging networks identify optimal charging points in a city while Grab and Gojek are working with partners to establish motorcycle battery swap stations to make it easier and cheaper for motorists to switch to electric options.
Catch up on the dialogue below: