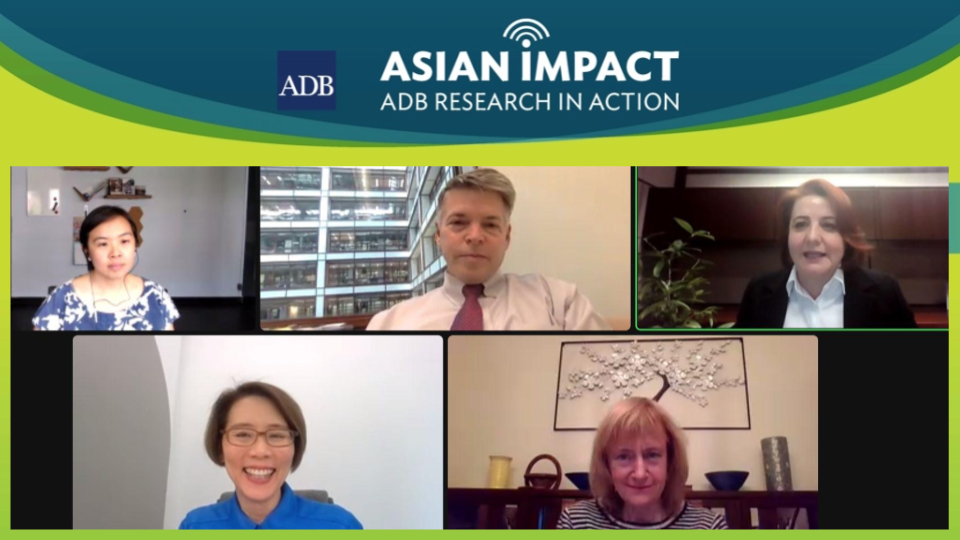 Top left to right: Rachel Teo, Head, Government Affairs and Public Policy, Singapore, Google; Thomas Abell, Chief, Digital Technology for Development Unit, Asian Development Bank; Yesim Elhan-Kayalar, Advisor, Economic Research and Regional Cooperation Department, Asian Development Bank
Bottom left to right: Dr. Ming Tan, Executive Director of TFGI; Dr. Yana van der Meulen Rodgers, Professor, Department of Labor Studies and Employment Relations, School of Management and Labor Relations, Rutgers University
Moderator and panelists:
Key insights from the panel:
While digitalisation carries immense potential to disrupt gender gaps, women still face obstacles in the digital economy
Digital platforms are an important source of livelihood opportunity for both men and women, be it in terms of platform work, or as entrepreneurs running micro, small and medium enterprises (MSMEs). However, gender gaps in platform work still persist, regardless of feedback scores, experience and educational attainment. Women entrepreneurs on online platforms face more difficulty in accessing financing. Some factors contributing to this gender divide include inequities in access to ICT infrastructure, caregiving constraints, digital literacy and skill gaps, technophobia and lack of information on benefits of or how to participate in online platforms. To better understand some of these variations in access faced by men and women, there is a critical need for collection of more granular, gender-disaggregated data.
Digital technologies can empower women in their roles as citizens, consumers, workers, and business owners
Digital technologies and the innovative business models that they enable can empower women in all aspects of their lives. Digitalisation of social protection using national digital identities can make access to benefits more inclusive, fair and equitable. Food delivery platforms such as GoFood, Foodpanda, Deliveroo and GrabFood create abundant business opportunities for women-owned MSMEs and also widen the range of choices available to consumers. Telehealth platforms like Intelehealth help to improve healthcare accessibility as well as livelihood opportunities for healthcare workers. Ride-hailing apps such as Grab and Gojek not only provide job opportunities, but also help to further transport equity for drivers and passengers alike, by ensuring personal safety through technological innovations.
Deliberate, informed design choices and actions by platform companies can help create more inclusive digital ecosystems
Many platform companies recognise their responsibility to design inclusive and equitable products and services. Part of this entails promoting fairness and reducing bias in machine learning. One example of this is Google's 2018 launch of a new development in Google Translate which addresses gender bias by providing feminine and masculine translations for some gender-neutral words.
An inclusive digital ecosystem requires collaborative action across industry, academia, civil society, and governments
To foster an accessible and inclusive digital ecosystem, we need to take a whole-of-society approach. On the industry front, platform companies have a role to play in investing in equipping women with digital skills, building inclusive products, and ensuring fairness and equity in hiring practices. Academia and civil society help to influence policy by providing research and expertise, as well as targeted investments to move the needle. Governments must also reexamine their policies to ensure that women are not being disproportionately burdened by unpaid care work or other barriers to their full participation in the digital economy.
Catch up on the event below.