In the dynamic landscape of Southeast Asia, digital technology has emerged as a driving force for economic development. From nimble micro-sized startups to illustrious billion-dollar unicorn companies, the region's entrepreneurial spirit is propelling the rapid expansion of the digital economy. However, within this digital revolution, startups face challenges such as funding, limited capacity building, and an underdeveloped startup culture that fails to fully encourage risk-taking, among many others. 
What are the essential elements to champion the growth of startups to drive socio-economic growth and nurture digitalisation? The Asian Development Bank invited Founding Executive Director of TFGI, Dr. Ming Tan to join a panel of ecosystem builders to understand different approaches as part of its DigitalxADB in Manila in September 2023.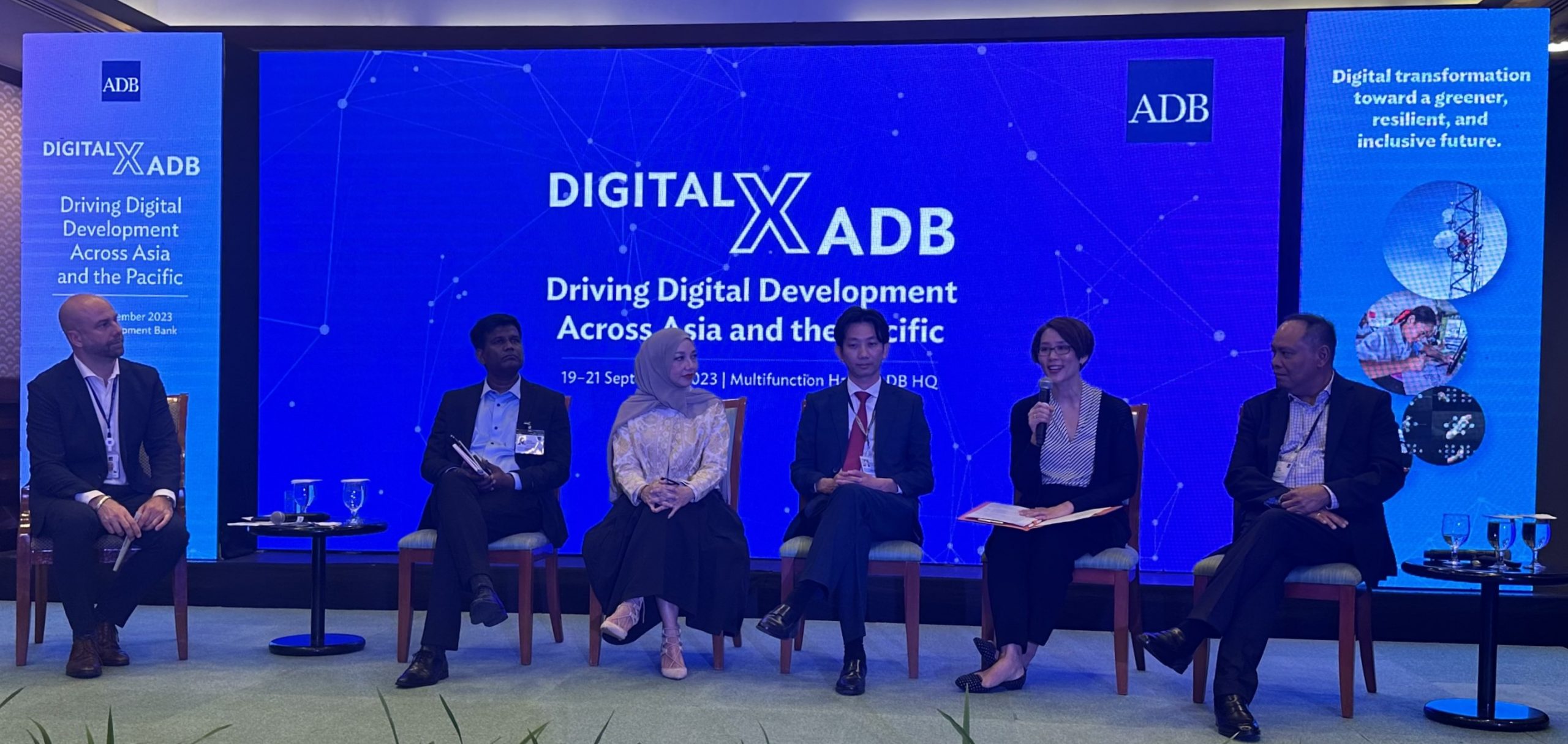 Left to right: Arndt Husar, Senior Public Management Specialist (Digital Transformation), Digital Technology for Development Division, Asian Development Bank; Anish Anthony, Chief Delivery Officer, T-Hub; Shinta Dhanuwardoyo, Founder, Bubu.com, Board Chairwoman, StartupIndonesia.co; H.E. Khov Makara, Chairman, Cambodia Academy of Digital Technology and Secretary of State at the Ministry of Posts and Telecommunication, Government of Cambodia; Dr. Ming Tan, Executive Director of TFGI; Jose Avelino Flores. Co-Founder, Plug and Play Tech Center (Philippines)
Moderator and panelists:
Key insights from the panel:
Support for startup ecosystems can take many forms
In Cambodia, a collaborative approach involving government, the private sector, and academia is employed to nurture the startup ecosystem seamlessly. The government connects local and global startup ecosystems through tech incentives, fostering the expansion of tech startups. The government also offers upskilling programmes to make available high-quality talent for startups. This commitment is underscored by Cambodia's Labour Law, which mandates that companies allocate 1% of their revenue to training, enhancing capacity building within the ecosystem.

Governments can also actively collaborate with innovation and accelerator programmes, providing essential financial resources and infrastructure. Partnering enables different communities to evolve around the needs of the entrepreneur. For example, T-Hub, an innovation hub in India, is a partnership between the Government of Telangana, academic institutes and the private sector. Not only does it foster innovation by connecting startups with larger corporates, it is creating a culture of rapid response – the accelerator itself has a target to support startup requests within 15-minutes. Other accelerators such as Plug and Play and platforms like StartupIndonesia.co nurture much-needed investor communities and capability-building initiatives, forming the robust backbone of support for startups.
State-owned enterprises play a unique role in many Southeast Asian economies, and can also play a role in nurturing the startup ecosystem. Indonesia's Merah Putih fund, for example, brings together the five venture capital arms of state-owned enterprises, and is inviting other private investors as limited partners to provide vital scale-up funding for promising companies. 
Startups are best placed to identify fit-for-purpose solutions, and can work with existing large corporates to stimulate innovation
Startups hold a unique position in our rapidly evolving technological landscape. Their agility and ability to swiftly adapt are paramount, especially considering that the half-life of technology is now just around eight months, highlighting the need to build quickly to remain relevant.

Startups are not merely players in the field but indispensable agents of change. They are deeply integrated into the markets they serve, allowing them to pinpoint market needs and gaps and create context-sensitive, fit-for-purpose products and services.
However, while digital startups may establish themselves successfully within local contexts, they also require regional and global connectivity to thrive. This is where frameworks like the "Framework for Promoting the Growth of Digital Startups in ASEAN," previously endorsed by the ASEAN Secretariat, come into play. This framework identifies six key pillars—talent, education, funding, connectedness, legal environment, and infrastructure—as essential enablers for a flourishing digital startup ecosystem. In this context, the Asian Development Bank  plays a pivotal role by working both regionally and within individual Developing Member Countries, contributing to the expansion of a broader ecosystem for startups.
At the same time, startups alone cannot drive innovation across the economy. An innovation ecosystem requires not only investors, startups and entrepreneurs, but also established companies, research institutions and government agencies to foster innovation, support product development and enable market adoption of new technologies, processes, products and services.
High-growth digital companies can support entrepreneurship and national development
When startups find success, they contribute in many ways. For example, in the case of T-Hub, their semiconductor programme (AIC T-Hub Semiconductor Programme), has played a pivotal role in fostering the growth and development of India's semiconductor industry, creating a ripple effect of job creation and enhanced funding opportunities in the tech ecosystem.  

At the same time, there is ample opportunity for startups to align financial returns with national developmental objectives. Digital financial service providers like GCash, Grab, and SEAMoney, for example, play a pivotal role in achieving financial inclusion for the unbanked and underbanked.  The Tech for Good Institute, for example, found that over 70% of digital lending users had previously been unable to secure financing from banks and other lenders.
The impact does not end there. Successful companies can serve as role models and inspiration to the next generation of startups. The Tech for Good Institute's Platform Economy report found that the alumni of first generation tech platforms such as Grab, SEA, and Ovo have since gone on to create and lead over 1,000 startups in the region. These second generation startups will focus on new problems, bring fresh ideas, generate new jobs and invest in human capital to develop new offerings and services that will compete with the first-generation digital companies. As more startups scale, the ecosystem matures. This paves the way for subsequent generations of startups in Southeast Asia, dedicated to applying digital solutions to problems at home, for markets that reflect our communities