While the digital economy continues to enable post-pandemic recovery and drive economic growth, stakeholders are examining the digital trajectory that would best serve society and generations to come. This question took centrestage alongside emerging technologies such as generative AI at ATxSG 2023, Asia's leading technology event jointly organised by Infocomm Media Development Authority (IMDA) and Informa Tech – supported by the Singapore Tourism Board.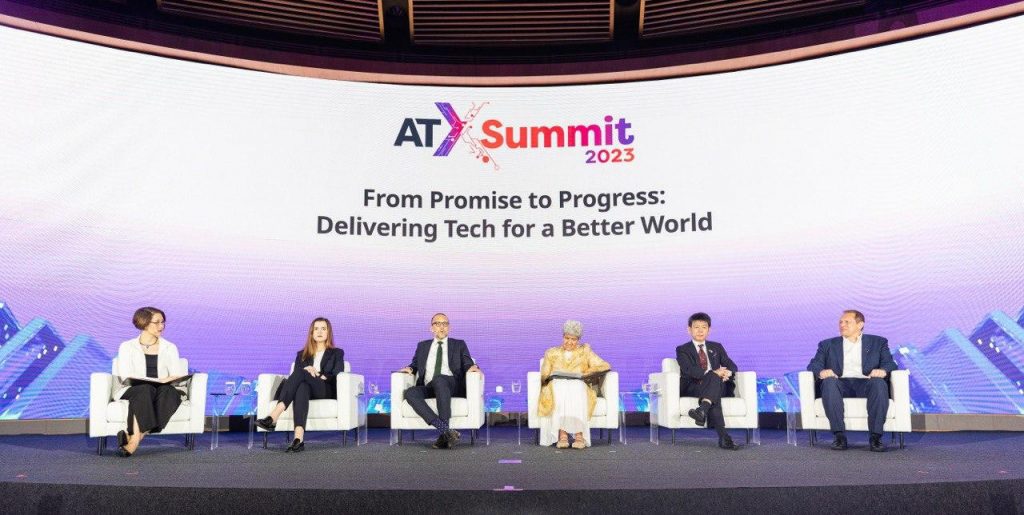 Top left to right: Dr. Ming Tan, Founding Executive Director, Tech for Good Institute; Egle Markeviciute, Lithuania's Vice-Minister of the Economy and Innovation; Peter Selfridge, Global Head of Digital Government, SAP; Marisa Lago, United States Undersecretary of Commerce for International Trade; Kazuo Yano, CEO, Happiness Planet, Ltd & Fellow, Hitachi, Ltd; Mark German, Executive Director of RISE, Schmidt Futures.
Moderator
Dr. Ming Tan, Founding Executive Director, Tech for Good Institute
Panelists:
Key insights from the panel:
When impact is the driving purpose of technology, investing in people is as important as investing in innovation
We may be more connected than ever but this connectivity has not always translated into better outcomes for individuals, communities, countries or the planet. Digital connectivity and adoption is only the first step. Better public services, climate resilience and sustainability, wellbeing, shared prosperity and access to opportunity are urgent outcomes that digital technologies can enable. People must remain the focus of and driving force for change. From the public sector to youth leaders, new ways of outreach, engagement and learning should augment efficacy, equity, diversity and inclusion. We need to reskill and upskill to build new competencies in the digital age, while fostering an attitude of collaborative cooperation between the private, public and civil sectors.
Commitment, cooperation and coordination among stakeholders are essential in driving sustainable development
Harnessing the potential of technology while mitigating risk requires sustained partnership between responsive governments and a responsible private sector. This is a long game requiring sustained collaboration. Digital products and services from companies are shaping the experience and expectations of citizens, requiring open evaluation of how public services may be best redesigned and delivered. Carbon accounting helps companies "measure what matters", and reliable data exchanges can promote better resource management and data-driven decision-making. Digital solutions may enable scale, but local companies and networks provide context to identify problems and deliver fit-for-purpose solutions.
In addition to cooperation between governments and the private sector, partnership between countries is also important. A bilateral example raised was the Partnership for Growth and Innovation between Singapore and the United States to strengthen trade and investment in the digital economy and smart cities, advanced manufacturing and supply chains, clean energy and environmental technologies, and healthcare. The multilateral Indo-Pacific Economic Framework for Prosperity, involving 14 member states, demonstrates efforts to bring regional and international stakeholders is key to effectively mitigate risks and drive sustainable development.
Human-centricity, digital equity, and trust underpin an open, free and secure digital future to advance wellbeing for all
Just as betting early on exceptional talent will yield benefits for both the individual and the community, long term investment in dialogue, frameworks and standards will harness the potential of technology while mitigating the risk. The UN Global Digital Compact, due to be presented next year at the UN Summit of the Future, aims to articulate shared principles for an open, free and secure digital future for all. The panel offered the importance of human centricity, digital equity, transparency and a multi-stakeholder commitment to building trust. These apply to systems, products and services from the government as well as from companies. public as well as private.