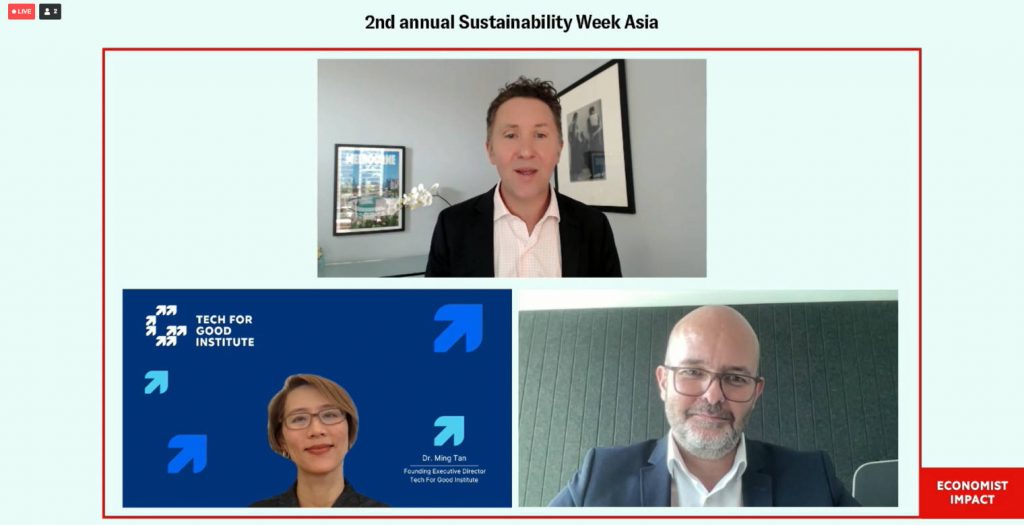 Top: Charles Ross, Principal of Policy and Insights at Economist Impact
Bottom left to right: Dr. Ming Tan, Executive Director of TFGI; Jamie Azzopardi, Sustainability Sales Leader at IBM
Digitalisation and sustainability are basic operating assumptions for all businesses, big or small, established or startup. This is particularly important in Southeast Asia where it is home to over 71 million micro, small and medium sized enterprises operating in some of the fastest growing economies in the world. As the region recovers from the pandemic and enters the next phase of growth, it faces the dual challenge of driving sustainable development while responding to the effects of climate change. Innovative digital technologies can drive sustainable growth in the region but governments, industries, and civil societies will have to work together.
Successful implementation of sustainability initiatives require actionable insights and practical solutions. Sustainability Week Asia, organised by Economist Impact, convened leaders and experts from the public, private and civil sectors to explore new models for translating sustainability commitments into effective action. This panel focused on the potential of innovation and digital tools to accelerate sustainability.
Moderator and panelists:
Charles Ross, Principal of Policy and Insights at Economist Impact
Jamie Azzopardi, Sustainability Sales Leader at IBM
Dr. Ming Tan, Founding Executive Director of TFGI
Key insights from the panel:
Digital economy companies (DECs) can drive sustainability and sustainable development in the region An upcoming study by TFGI and the

Center for Governance and Sustainability (CGS)

at the National University of Singapore (NUS) found that DECs operating in the region are keen to demonstrate their commitment to sustainability. However, there appears to be a "say-do" gap when it comes to intention and action. This is likely to shift as consumer and regulatory

demands for sustainability

are expected to increase in the coming years so there is an urgent need for companies to take action before it's too late.
Sustainability initiatives are not one-size-fit-all Industries and companies have different business models and operations with varying needs and challenges. As a result, the sustainability goals of these companies will also differ depending on the reporting and compliance requirements and expectations of their stakeholders. Based on these needs and requirements, companies will have a clearer view of their sustainability objectives and goals which will help companies accurately track, measure, and manage their progress on an ongoing basis.
Data-driven digital solutions are integral in the sustainability journey of companies Sustainability reporting is a data-intensive exercise. Digital solutions can help companies effectively manage data, measure progress and facilitate decision making.
Digitalisation has both positive and negative impacts on greenhouse gas emissions Digital technologies can support greenhouse gas emissions in supporting decision making and through sensing and control for real time data and calibration of processes. In addition, carbon markets rely on trusted and verifiable data. Digitally-enabled technologies, such as light detection and ranging (LiDAR) sensors, can monitor forests digitally for carbon stock monitoring, supporting the generation and trusted trading of carbon credits. Yet, the digital economy itself has a huge carbon footprint. It has been estimated that a single data centre can consume the equivalent electricity of

50,000 American homes

. Not only should digital technologies enable sustainability, the digital economy needs to improve its own sustainability record.
Ensuring digital inclusion is important in a technology-enabled and data-driven world In Southeast Asia,

65 million people do not have access to electricity

while

150 million people still lack access to digital technologies

. The lack of access to these vital needs is likely to further inhibit the ability to avail crucial services and information in areas like healthcare and education. Failing to address the digital divide and social inequality is likely to jeopardise the promise of innovative digital technologies in advancing sustainable development in the region.