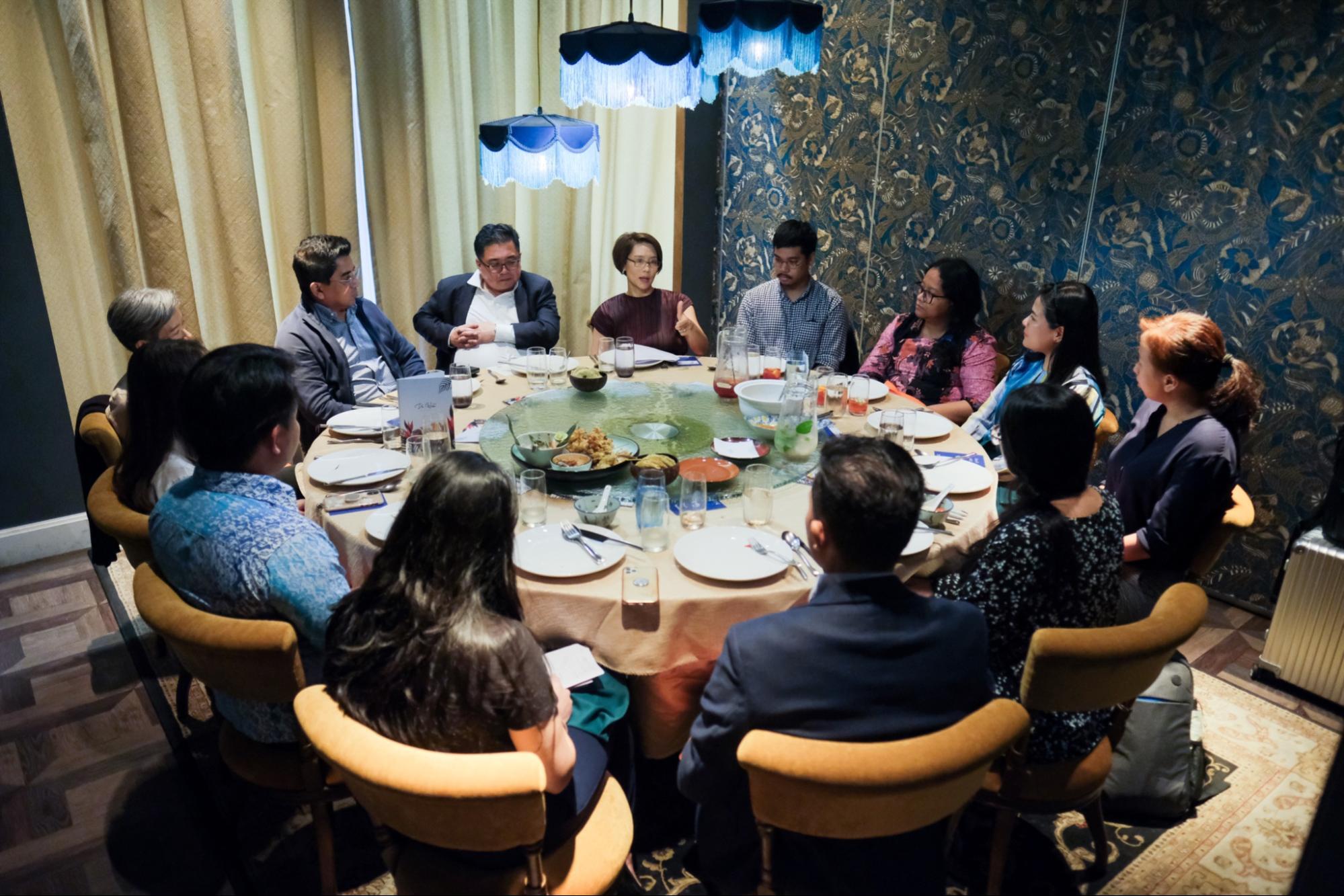 Malaysia is one of the most digitally connected economies in the world. The country's digital economy is expected to contribute up to 22.6% of the gross domestic product (GDP) by 2025, up from 17.8% of GDP in 2015. The Covid-19 pandemic has accelerated participation in the digital economy, with Malaysia leading the SEA-6 in terms of the percentage of digital consumers at 83%. Yet, digital inclusion remains uneven across the country.    
Balancing growth in the digital economy with the impact of rapid digitalisation is a key concern recognised in the Malaysian Digital Economy Blueprint, a reflection of the government's aspirations to transform Malaysia into a high-income nation and a regional pioneer in digital economy. Some of the key priorities identified in the blueprint include developing digital talent, creating an inclusive digital society and establishing a secure digital environment. 
These topics were central at the Roundtable hosted by the Tech for Good Institute in September in Kuala Lumpur. 
Attendees and discussants:
Mr. Fabian Bigar, CEO of MyDigital Corporation. MyDigital has been task to drive the country's digital economy agenda as outlined in the Malaysian Digital Economy Blueprint 

Ms. Nelleita Omar, Research Director at The Centre

Mr. Edwin Goh, Research Officer at The Centre

Dr. Tan Jun-E, Senior Research Associate at Khazanah Research Institute (KRI)

Dr. Melati Nungsari, Associate Professor of Economics at Asia School of Business

Ms. Farlina Md Said, Senior Analyst at Institute of Strategic and International Studies (ISIS)

Mr. Harris Zainul, Senior Analyst at Institute of Strategic and International Studies (ISIS)

Ms. Lee Min Hui, Analyst at Institute of Strategic and International Studies (ISIS)

Mr. Ebi Azly Abdullah, Director of Public Affairs and Policy at Grab 

Ms. Ain Razali, Manager of Public Affairs and Policy at Grab 

Dr. Ming Tan, Executive Director of TFGI

Mr. Matin Mohdari, Strategy Director of TFGI

Ms. Melissa Tan, Research Fellow of TFGI
Key insights from the discussion:
Digital talent development is one of the most important issues to address in order to ensure a thriving, equitable and inclusive digital economy.

The challenge is to meet both short-term and long-term workforce requirements. In the immediate term, governments and companies should focus on reskilling the current workforce to help people stay relevant in their current employment, and to adapt and remain competitive as companies digitalise. In the longer term, technical and non-technical competencies are required for local innovation and to realise the potential of technology-enabled business models for value-added growth. 
As more people go online and occupy the same cyberspace, cybersecurity is more important than ever.

Better public awareness of cybersecurity issues from digital consumers and users is vital for building resiliency and fostering trust in the digital ecosystem. Digital skills can be integrated into primary and secondary education to build a generation of digital natives as the foundation for a confident digital society. In addition to minimising risks and reducing vulnerabilities, the public and private sectors can also work together to  develop suitable responses to cyberattacks and online threats, cooperating for effective enforcement of cybersecurity policy and availability of redress mechanisms to deliver justice and amelioration where needed. 
Social protection needs to be built into the fabric of the digital economy to expand opportunities while addressing associated risks especially to the vulnerable.

Digital technologies have enabled new business models and modes of work. Workers in the digital economy are diverse, with differing motivations, needs and challenges. Consultations across this spectrum of workers are important to ensure that the right balance is struck between ensuring protection, promoting fairness, and retaining the benefits of work enabled by the digital economy. More attention should also be paid to the lived experiences of people and the positive and negative impact of digitalisation on people's lives, especially those of vulnerable and marginalised populations. This is especially important to protect the wellbeing and safety of vulnerable participants of the digital economy, such as undocumented and unbanked individuals. 
The digital economy must benefit all, and not just the privileged few.

It is imperative to balance the priorities of different stakeholders to ensure that economic growth and social progress are aligned. For example, policies that prioritise economic growth may limit opportunities and access for certain populations while policies that prioritise national security may be at odds with those promoting data privacy and protection.  Both national security and privacy concerns may also be at odds with the promotion of open data sharing agreements to allow development of innovative solutions. Therefore, the interests of all stakeholders must be considered and balanced to realise a thriving and equitable digital economy that is also safe, inclusive and resilient. 
Malaysia can play a more proactive role in connecting with counterparts across Southeast Asia to discuss meaningful participation in international rulemaking.

Especially with regard to developments in Artificial Intelligence (AI), its related application in everyday products, and the overall governance of AI in this part of the world, there is value for Southeast Asia as a highly diverse and unique region to collectively offer rich insights observed from the ground to effectively shape international standards for rulemaking.
To read more about our Singapore Roundtable on the Digital Economy, please click here.