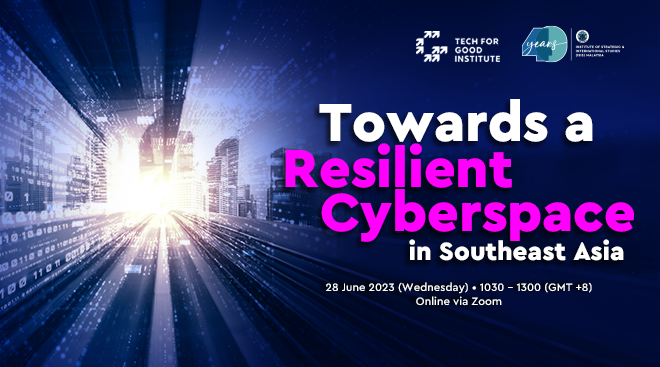 Background
Cyber security is frequently seen as a one-time investment endeavour, with approaches to securing systems left to oversight mechanisms that are sporadic and intermittent. Malaysia's experience with data breaches signifies threats are becoming sophisticated. For instance, in November 2022, AirAsia was hit by ransomware that jeopardised the personal information of five million passengers. Such instances of ransomware indicate organised criminal behaviour eased by availability of criminal software online. Further, such data breaches occur due to lapses in processes which could leave vulnerabilities undiscovered. Cyber resilience is a necessary concept for the management of cyber security, especially to adopt approaches that could address continuously developing threats.
About the Webinar
In collaboration with Institute of Strategic & International Studies (ISIS) Malaysia, the Tech for Good Institute would like to warmly invite you to our Research Dialogue on Towards a Resilient Cyberspace in Southeast Asia.
The session will feature a research presentation by Keith Detros, Programme Lead at Tech for Good Institute where he will introduce a conceptual framework on cyber resilience, offer a landscape overview of cyber resilience in the region, and discuss actionable recommendations from academics, policymakers and businesses. The session will end with a panel discussion on Improving Cyber Resilience in Malaysia.
Programme
1030


Welcoming remarks
ISIS Malaysia

Opening remarks
Dr Ming Tan
Executive Director
Tech for Good Institute

1045


Towards a Resilient Cyberspace in Southeast Asia

Scene Setter Presentation
Keith Detros
Programme Lead
Tech for Good Institute

Presenter
Farlina Said
Senior Analyst
ISIS Malaysia

Discussant
Shariffah Rashidah Syed Othman
Senior Principal Assistant Director
Chief Executive's Office
National Cyber Security Agency

1145

Break

1155


Panel Discussion: Improving Cyber Resilience in Malaysia

Moderator
Dr Rachel Gong
Deputy Director of Research
Khazanah Research Institute (KRI)

Panellist
Keith Detros
Programme Lead
Tech for Good Institute

Panellist
Shariffah Rashidah Syed Othman
Senior Principal Assistant Director
Chief Executive's Office
National Cyber Security Agency

Panellist
Farlina Said
Senior Analyst
ISIS Malaysia

Panellist
Jean F Queralt
Founder and CEO
The IO Foundation

Q & A