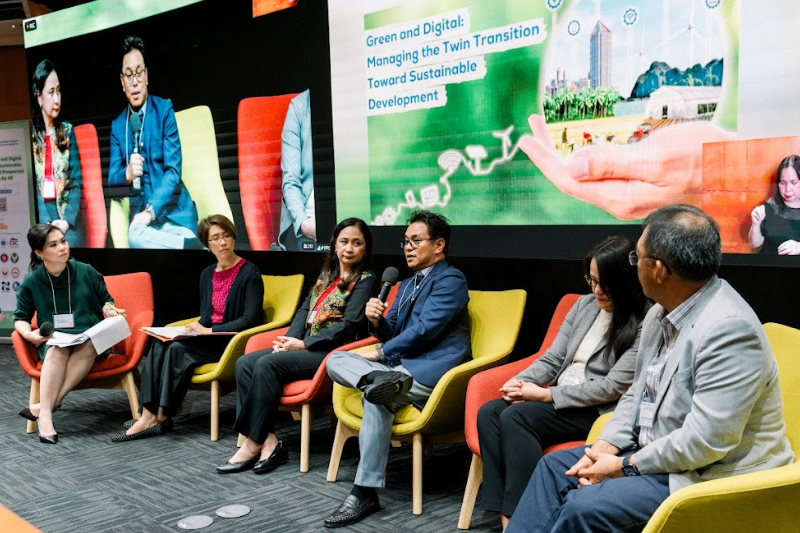 (
Photo Credit: PIDS)
Left to right: Panel moderator Michelle Krystle D. Ong, Business News Correspondent, ABS-CBN Corp (Manila); Dr. Ming Tan, Founding Executive Director, Tech for Good Institute; Dr. Maria Cherry Lyn S. Rodolfo, Member, Board of Advisors, AIM-Dr. Andrew L. Tan Center for Tourism; Atty. Alexander B. Cabrera, Governor-In-Charge, Environment, Social and Governance Committee, Management Association of the Philippines; Rhodora M. Brazil-De Vera, Deputy Director, Supervisory Policy and Research Department, Financial Supervision Sector, Bangko Sentral ng Pilipinas; Assistant Secretary Mario Marasigan, Department of Energy, Republic of the Philippines
September is Development Policy Research Month in the Philippines, highlighting the role of policy research in the socioeconomic advancement of the country. In addition to drawing awareness and appreciation of research in development planning and policymaking, activities during the month seek to raise public understanding of significant socioeconomic issues. The Annual Public Policy Conference, organised by the Philippine Institute for Development Studies, is the culminating conference during this Month. It was therefore fitting that digitalisation and sustainability, essential transitions for any country's economy, was the theme of the conference. 
In the Philippines, for example, Republic Act 11898, the Extended Producer Responsibility Act of 2022, obliges companies to ensure proper and effective recovery, treatment, recycling, or disposal of their products after these have been sold to the consumers. The impact of such green policies can only be realised if digitalisation is part of the solution, and if micro, small and medium-sized enterprises are supported in the twin transition of digital transformation and sustainability.  
The plenary, "Reducing the Disruptions to Trade and Industry", brought together representatives of academia, civil society and government to discuss enablers to a sustainable, digitally-transformed economy for the Philippines. 
Moderator and panelists:
Michelle Krystle D. Ong

,

Business News Correspondent, ABS-CBN Corp (Manila)

Assistant Secretary Mario Marasigan

, Department of Energy, Republic of the Philippines

Dr. Ming Tan

, Founding Executive Director, Tech for Good Institute

 

Rhodora M. Brazil-De Vera, Deputy Director, Supervisory Policy and Research Department, Financial Supervision Sector, Bangko Sentral ng Pilipinas

Atty. Alexander B. Cabrera

, Governor-In-Charge, Environment, Social and Governance Committee, Management Association of the Philippines

Dr. Maria Cherry Lyn S. Rodolfo

, Member, Board of Advisors, AIM-Dr. Andrew L. Tan Center for Tourism
Key Takeaways:
Balancing Short-Term Profit with Long-Term Sustainability and Community
 Business owners in the Philippines recognise that success in today's business landscape involves striking a balance between short-term profit and long-term investments in environmental sustainability and digital transformation. 
 In addition, the social aspect – in the broader context of ESG (Environmental, Social, and Governance) – must not be forgotten. The social aspect plays a significant role, emphasising the importance of enhancing human rights, improving the quality of life and promoting human welfare.

It is with these aspects in mind that anchor the notion of shared prosperity, which looks beyond profit to benefit the environment and community.
Challenges in Embracing Sustainability and Digitalisation
 The majority of businesses in the Philippines are micro and small enterprises (MSMEs) – at 99.58%, accounting for a total of 5,461,731 jobs, or 64.67% of national employment. While larger corporations are actively adopting sustainable practices and digital tools, smaller enterprises often face resource constraints and limited capacity to implement  green and digital initiatives. First steps might include adopting digital payment systems in their digitalisation journey, while sustainability efforts start with effective waste management. 
Larger companies, therefore, such as platform companies, can support smaller companies by building awareness of environmental issues and reducing the financial or information barriers to action. Furthermore, increased cooperation between the public and private sector is also necessary for a nationally and internationally coordinated and responsive regulatory environment to drive impact at scale. 
The Future of Energy and Sustainable Digitisation
 Digitalisation requires energy. The Philippines faces unique electricity infrastructure challenges from generation to transmission and distribution. This results in the high cost of electricity supply in the Philippines. In response, the Philippine government has committed to delivering secure, stable, reliable, sustainable, and affordable energy to their populations. The  National Renewable Energy Program (NREP) targets a 50% contribution from renewable energy sources by 2040, with ambitions to surpass 50% by 2050 in response to increasing energy demands.
 Reducing costs in the energy sector and enabling alternative energy adoption requires investments in technology to enhance efficiency and to reshape the way energy is produced, distributed, and consumed.
4. Digitalising the Tourism Industry

For the tourism industry, digital transformation is also essential to enhancing the customer experience so that the Philippines may compete more effectively for tourist attention. The Philippines is leveraging mixed reality, augmented reality, and other technologies to excite and engage tourists, particularly those exploring the nation for the first time.
At the same time, the Philippines tourism sector relies on coastal communities. Sustainability is vital to ensuring resilience of these climate-vulnerable locations.


Conclusion: Charting a Sustainable Course
The Philippines' journey towards the twin transition of digitalisation and sustainability requires alignment of digital and sustainability roadmaps to enable the path to financial, environmental and social sustainability. Integration and partnership between the public, private, civil and academic spheres are vital to enable a unified approach that is fit for purpose for the Philippines. 

Please find more about the 9th Annual Public Policy Conference, including video highlights, here.