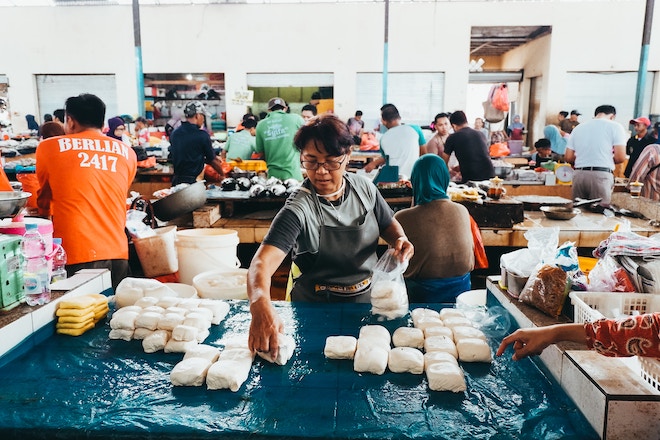 by Ming Tan, Founding Executive Director, Tech for Good Institute
This article was originally published in the Asian Development Bank's Southeast Asia Development Symposium blog and has been republished with permission.
There are at least 71 million micro, small and medium enterprises (MSMEs) in Southeast Asia, based on 2020 data from the Asian Development Bank (ADB). They account for 97% of all businesses in the region and employ 67% of the working population. This count is likely to be even higher as many micro-enterprises operate informally. A recent study by the International Labour Organisation based on individual-level data has shown that globally, MSMEs account for an even larger proportion of employment than previously thought.
Despite their numbers, MSMEs contribute to 40.5% of national GDPs in the region on average and 19.2% of total export value in 2020. MSME development is already a part of most countries' long-term goals, with their success a crucial driver of inclusive economic growth. Digitalisation in general is a common thread in the national strategies. 
One specific digitalisation trend in Southeast Asia has been the rise of online-to-offline (O2O) platform companies which facilitate transactions with both physical and digital components – such as e-commerce and food delivery. Platform companies can contribute to MSMEs' growth in three areas: through efficiency, by reaching more customers and enabling access to finance. 
Achieving Efficiency
Data from ADB's latest regional MSME surveys show that MSMEs' proportion of employment has declined over the last 10 years across five of the largest countries in the region, even as the number of MSMEs has increased. This pattern means that, on average, businesses will have to become more productive and run with fewer employees. 
The smaller organisations that can flex their lean workforces stand to gain. Digital technologies can enable streamlined processes, data for decision making and automate routine tasks. While global digital business processing tools are available, entrepreneurs in Southeast Asia are also serving their own markets, offering local digital business tools with context-sensitive solutions, pricing and customer support. 
Beyond business processing, platform-enabled local logistics networks have been a boon for Southeast Asian MSMEs, given that the majority (between 61% and 89%, depending on the country) are service, wholesale and retail trade businesses. Vietnamese startup Logivan, which connects truckers with sellers, and Indonesian Shipper are but two such companies on a mission to reduce transport costs for MSMEs. 
Reaching Customers 
Digitalisation can help MSMEs widen their market and supply chains. In the The Tech for Good Institute's (TFGI) Platform Economy in Southeast Asia Report 2021, 8 in 10 digitally-enabled MSMEs reported that they are able to reach more customers through platforms. Savvier smaller enterprises can build customer bases through digital marketing and social selling, while larger enterprises maximise their reach and gain data for business intelligence. 
Unlike purely digital businesses, online-to-offline platforms are uniquely placed to support MSMEs as they transform into "bricks and clicks" businesses. Covid-19 measures over the last two years have encouraged consumers to try buying online. When farmers in Malaysia were impacted by lockdown measures closing wholesale markets and restaurants, for example, Lazada set up a virtual store to connect farmers and retail consumers directly. In a month, about 70 tons of produce were delivered directly to homes. Malaysian MSMEs recognise the value and importance of platforms, with 85% of those surveyed agreeing that they need to use platforms to succeed. 
There is plenty of headroom for growth. In a 2019 study by the Economic Research Institute for ASEAN and East Asia, 34% of surveyed small businesses had an online presence, while another 10% used advanced tools like analytics and automation. TFGI's data shows that only 20% of MSMEs are currently on online-to-offline platforms. In 2021, however, 69% of consumers across Indonesia, Malaysia, Singapore, Thailand, Philippines and Vietnam had made an online purchase in the past twelve months. Online food and e-commerce sales made up 8% of total food and retail sales in the region last year – compared to 17% in the US and 27% in China. 
More ambitiously, digital platforms support MSMEs seeking new markets. The McKinsey Global Institute found that when the pandemic was in its full first wave in 2020, Asia's share of intraregional trade remained at around 60% despite a contraction in global trade. Further interviews with McKinsey indicated that all Asian executives—no matter where they were headquartered—indicated that increasingly Asia is trading with Asia. 
Access to Finance
To grow, enterprises need financing. Smaller traditional businesses may not have conclusive credit histories or the records required for formal loans. 60% of surveyed MSMEs requiring financing or credit in the region have expressed difficulty or inability to obtain loans from traditional financial institutions. 
From ADB data, MSMEs have on average a higher share of non-performing loans (4.1% of outstanding MSME bank loans) as compared to all other bank loans (2% of all other outstanding bank loans). While the share of MSME non-performing loans has decreased over time across some countries such as Malaysia, Philippines and Thailand, digital financial services have also emerged to offer financial access for MSMEs. Digital providers are able to use alternative sources of data to develop credit risk models that reflect the nature of MSME businesses. In TFGI's report, 74% of surveyed MSMEs with loans from such digital providers had previously been unable to secure financing from banks and other lenders. 
Other platforms for raising financing, such as peer to peer financing and crowdfunding are still emerging in the region. A study of digitalisation in women-owned SMEs showed that such platforms not only facilitated access to funds, but provided an opportunity for the enterprises to validate their products and build their customer base at reduced marketing costs. 
Investing in Inclusive Growth for MSMEs
While general digitalisation roadmaps suggest a steady transformational journey, we recognise that MSMEs each navigate their own paths. Many MSMEs start with free or cost-effective single use digital solutions, investing in integration down the road. First steps are therefore important, as some may prioritise operational efficiency, others business intelligence, while still others seek customer-centric outcomes. For example, the Grab Small Business Booster Program across Southeast Asia helped MSMEs choose to expand their online visibility, adopt digital payments, or both. 
In addition to encouraging adoption and integration, connectivity is more important than ever. Beyond capital cities such as Manila, Hanoi and Jakarta, the majority of MSMEs – between 72% and 85% – operate in rural areas, where both infrastructure like electricity and transportation, and digital infrastructure such as broadband access, are most likely to be absent or suboptimal. 
Policymakers understand that unequal digital access limits MSMEs' potential to contribute to the economy. Investments in infrastructure and digital adoption are not only important to realise growth, but also to avoid location-driven inequality.
TFGI and ADB explored this topic in a special session with policy and business stakeholders at the Southeast Asia Development Symposium 2022 on 17 March.
Ming Tan is founding Executive Director of Tech for Good Institute, which was founded by Grab to leverage the promise of technology to advance inclusive, equitable and sustainable growth for Southeast Asia. She is concurrently a Senior Fellow at the Centre for Governance and Sustainability at the National University of Singapore.
Photo by Devi Puspita Amartha Yahya on Unsplash