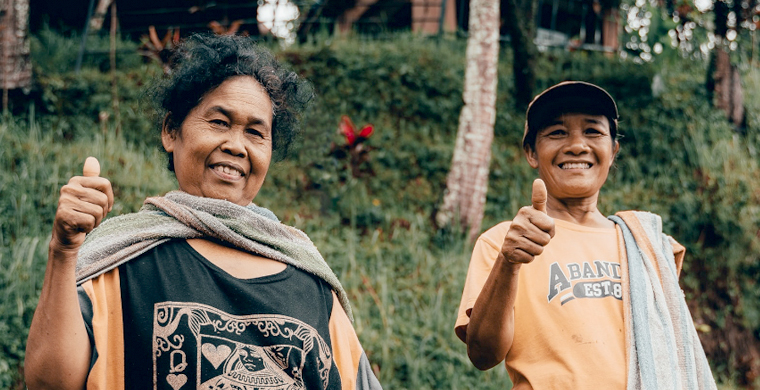 by Sati Rasuanto, Co-Founder and CEO of VIDA. 
Trust seems like a simple concept, and yet is very hard to define. Rachel Botsman, a renowned expert and author on trust in the digital world, defines trust as a confident relationship with the unknown.
There is no better way to demonstrate trust than a transaction between two parties. It could be the trust between you and your taxi driver that will get you to your destination safely; or that the rental apartment you have been eyeing is true to the description provided by its proprietor.
Trust is fundamental to our lives. Without it, people would not get from point A to B as quickly as possible. They would not be able to have a place to rest, or in a bank's case, an account to safeguard their finances.
Trust in a digital economy
Trust allows us to put faith in ideas or products that are unknown to us. When a new innovation or technology comes out, we place our trust in it – and that's how we adopt it and push it into the mainstream.
Technology has accelerated the duration we take to trust something new. In the analogue world, trust is built over time – generally through meeting people. Digital technologies allow us to trust strangers and transact in ways we wouldn't have previously imagined – such as using Internet banking to move large sums of money, or giving a stranger a key to your home, as with the case of Airbnb.
The pandemic has strengthened the notion of trust. Leaders trust that their teams are continuing to work from home. Nations across the world have placed their trust in the Covid-19 vaccines, hoping that our lives will return to normal.
However, there is a dark side to digital trust. In 2017, a non-existent restaurant rose to the top of TripAdvisor's list of places to eat in London by drumming up interest through fake reviews. Deep fakes, where artificial intelligence software recreates the likeness of individuals in videos and images, have been used to drive misinformation on social media. We need to confront this reality that trust can be misused.
Why this is important to Southeast Asia
The pace at which the digital economy can accelerate is influenced by how quickly trust or distrust is formed in society. Parts of Southeast Asia have already seen widespread adoption of digital technology in people's daily lives. 
Southeast Asia's receptive attitudes towards digital technology is evidenced in VMware's Digital Frontiers Study, released earlier this year. It noted that Southeast Asia led the world in terms of digital curiosity.  About 78 percent of Southeast Asian consumers define themselves as "digitally curious" or "digital explorers"; and look forward to organisations delivering more digital experiences and services.
The region has one of the largest numbers of young people in the world – about 50 percent of the region, or about 200 million, consists of youths under 30 years-old. These youths, who were born in the digital age, are central to the digital economy's long-term growth.
While technology and communications infrastructures are making progress in their reach, some communities have been left behind. For instance, Southeast Asia has made tremendous strides to improve access to and affordability of mobile internet, with over 400 million internet users in Southeast Asia-6 in 2020 – up from 122 million in 2010. According to research by the Tech for Good Institute (TFGI) and Bain & Co however, 30 percent of the Southeast Asia-6 population is still not yet online; and a large gap between urban centres and rural areas remains.
There remains a gap between early adopters and the long tail, and a big part of that lag comes down to a need to build deeper trust. Many of these underserved communities are new to transacting online, and some of them have made purchases online for the first time due to the pandemic.
Indonesia, for instance, is a country that is still very much underserved, with opportunities for deeper engagement. According to the World Bank, 47 percent of Indonesian adults are still not connected to the Internet. TFGI's New Economy Progress Index shows that the country is at the early stages of getting MSMEs online. Meanwhile, 41 percent of the population have mobile wallets and 1 in 4 Indonesians utilise multiple online-to-offline services.
Despite the lack of digital infrastructure in some underserved areas, the appetite for digital technology remains. This trend in Indonesia is apparent in the Tuft University's Digital Intelligence Index. It shows that "break out" economies like Indonesia possess one of the most optimistic attitudes towards digitalisation and technology, despite having relatively weaker infrastructure.
This is certainly borne out of perceptions towards the country's platform economy. In TFGI's report, 78 percent of MSMEs agree that they can reach more customers through platforms versus offline, and 89 percent of consumers believe that it is faster and more convenient to use digital payments as compared to cash.
In summary, the digital economy's long-term growth depends on inclusion. Tech platforms and government leaders have major roles to play in encouraging digital inclusion, by building an environment of trust.
Platforms have already made some headway in this regard. For instance, ecommerce platforms allowing for cash-on-delivery, or for payments to be made in cash at nearby convenience stores, goes some way in allowing people to shop online without linking their bank account or credit card. Meanwhile, in transport, driver-partners for Grab and Gojek are required to upload a selfie to confirm their identities and prevent identity fraud when they log on to the platforms.
Striking a balance between innovation and protection
Going forward, private-public sector partnerships can assist in fostering digital trust. First and foremost, countries are looking at regulatory frameworks for privacy and data protection, particularly learning from practices in the European Union (EU) and the United States. Indonesia, for one, is currently in the midst of parliamentary discussions to draft a law largely based on the EU's General Data Protection Regulation (GDPR), and is looking to create standards for electronic transactions.
When adopting standards from elsewhere, it is important to consider the landscape of the particular region. Each country has its own level of infrastructure, user patterns and digital needs. Some of the standards being put in place elsewhere may not apply to Southeast Asian countries, because of the difference in infrastructure.
Governments can also take into account the nature of the innovation ecosystem in their respective countries. For start-ups, an important issue is that while regulatory frameworks are important for fostering trust, it could also dampen innovation. This trade-off is unavoidable and countries need to determine the right balance based on their own environments.
The Indonesian Government has supported innovation by working closely with start-ups and entrepreneurs in the country. Specifically in financial technology, it has developed regulatory sandboxes for companies to develop and test new innovations, within the boundaries of consumer protection. As a digital identity start-up, VIDA is participating in such sandboxes, helping us strike a balance between experimentation and protection.
There is no question that consumer protection has to be a priority for both the industry and government. In 2019, Southeast Asia lost US$260 million to digital fraud, with identity fraud taking the lion's share (71 percent) of all online fraudulent activities.
On digital platforms, the best way to tackle fraud is to build in trust verifications right from the start. The first step is to protect the entry gate to a platform. Once a user has passed the entry gate, their credentials must be verified. This authentication needs to be seamless so as to not compromise on the user experience.
Another crucial piece of the puzzle is consumer education and digital literacy campaigns. Industry partners and governments must work together to help the underserved communities make informed decisions when it comes to their online activities. As scammers get more sophisticated in their methods, even the most savvy Internet users are at risk of digital fraud.
Some of these underserved communities lack smartphones, bank cards or even identity cards for authentication. Digital innovators need to find ways to involve these communities, so that they won't get left behind in the digital race. Authentication can come in many forms and it's up to digital innovators to enable trust in a way that is accessible to consumers.
As incumbents and gatekeepers of the digital economy, regulators and digital innovators–be it young start-ups or seasoned unicorns, must find ways to achieve long-term sustainability through a robust trust environment.
With ample time, effort and collaboration between the public and private sectors, digital trust can become an inclusive phenomenon.
Sati is co-founder and CEO of VIDA, and a member of the Tech for Good Institute's Advisory Board. She is part of the Advisory Group for the Institute's inaugural report on the Platform Economy in Southeast Asia.