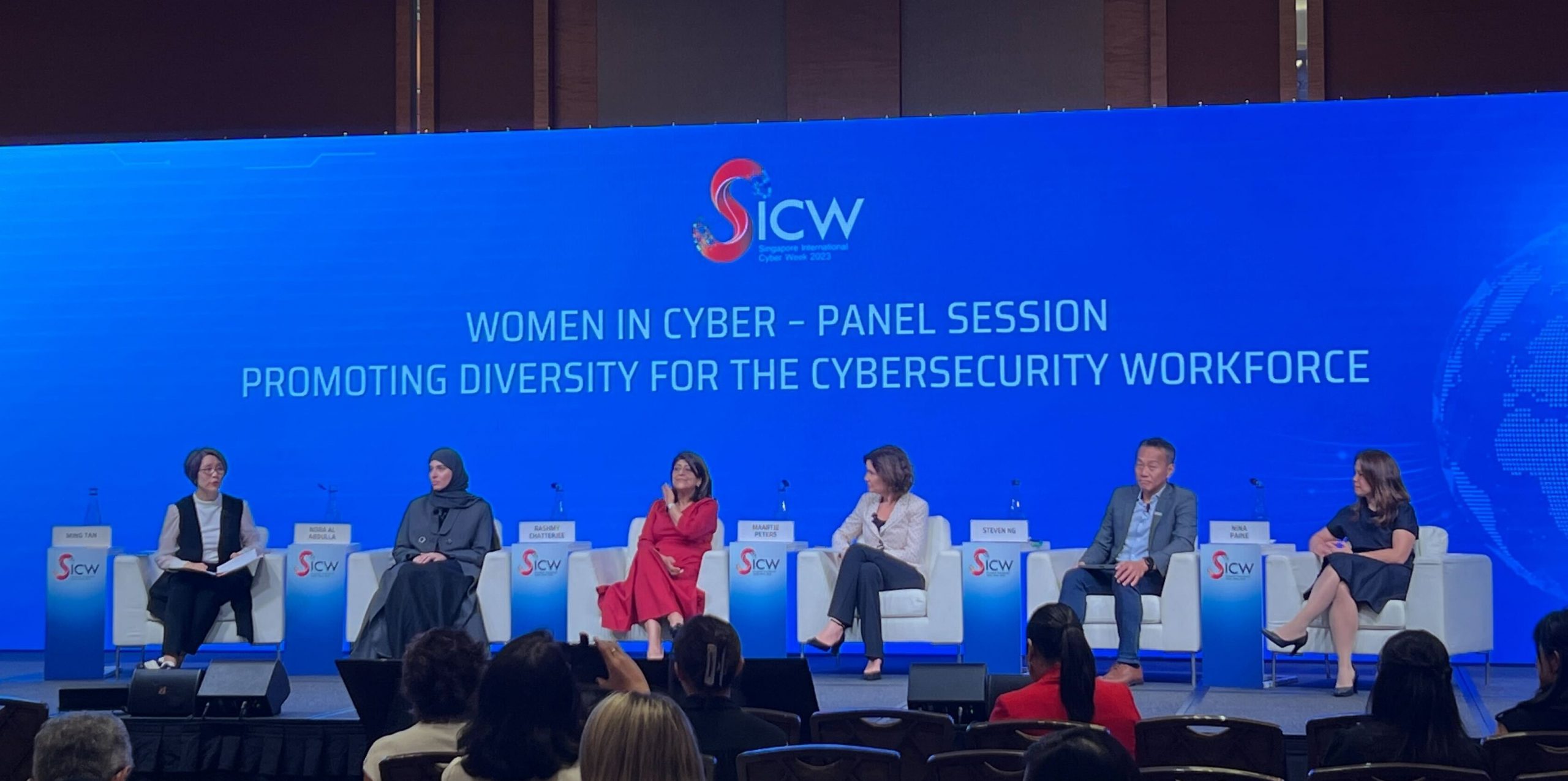 Left to right: Ms. Ming Tan, Ms. Noora Al Abdullah, Rashmy Chatterjee, Ms. Maartje Peters, Mr. Steven Ng and Ms. Nina Santana Sweeney
The term, "Diversity" can be categorised into inherent diversity (race, gender, age) and acquired diversity (experiences, expertise, network). Both forms of diversity are crucial in building effective teams, particularly in the cybersecurity field, where diverse perspectives are valuable for handling evolving cyber threats and risks. The panel organised by the Cyber Security Agency discussed how acquired diversity, gained through experiences and skills, is as crucial as innate diversity in building an effective cybersecurity workforce. They emphasise the importance of diversity of thought and problem-solving in the field.
Moderator and panelists:
Key Takeaways: 
Diversity and Inclusivity
The panel emphasised the importance of fostering diversity and inclusivity within the cybersecurity workforce. Central to this endeavor is the cultivation of a culture that instills a profound sense of belonging among individuals from diverse backgrounds and with varying abilities. During the discussion, a notable employment program was highlighted, which was developed in collaboration with the Ensign and Autism Resource Center. The program's primary objective is to offer training and job opportunities to neurodiverse professionals, leveraging their unique cognitive strengths. This initiative encompasses comprehensive training, encompassing both soft skills and job-specific training for roles such as security analysts.
However, the attainment of true diversity and inclusivity in the workforce hinges on significant cultural shifts. These shifts necessitate unwavering support from organisational leaders and a well-structured, deliberate implementation of inclusive practices. The success of building a diverse team ultimately depends on the leadership's recognition of the exceptional contributions that individuals from diverse backgrounds bring to the table. The collective belief within the team that diversity fosters better decision-making and innovative solutions is paramount.
From Cyber Resilience to Emotional Resilience
As digital solutions continue to proliferate, the escalation of scams, data breaches, and cyberattacks poses a growing threat. These perils not only erode trust in the digital economy but also impede its potential to drive economic growth and societal well-being. Consequently, it becomes imperative for nations to establish a secure and resilient digital environment. One pivotal stride in this direction is to increase awareness and comprehension of the ever-evolving threat landscape.
Within organisations, it is essential to fortify cyber resilience. This encompasses educating employees on how to anticipate cyber threats, understand the risk profile, and adopt a proactive stance on security. In the Tech For Good Institute's latest cyber resilience research, cyber resilience is defined as the  ability of individuals, communities, and institutions to absorb shocks, recover, adapt, and transform in the face of long-term changes and uncertainty, highlighting the importance of bouncing forward after an attack, not just bouncing back.
Moreover, nurturing emotional resilience is equally vital in the realm of cybersecurity. Cybersecurity professionals frequently encounter high-stress scenarios, grappling with constant threats and the potential for severe consequences. Developing emotional resilience equips them to maintain composure under pressure, adapt swiftly to changing circumstances, and rebound from setbacks. This not only augments their capacity for sound decision-making but also promotes mental well-being, ultimately contributing to a more effective and sustainable cybersecurity strategy.
Collaboration is essential and vital
Forging collaboration in the realm of cybersecurity is paramount in the face of increasingly sophisticated cyber threats. By bringing together diverse expertise and resources from government agencies, private sector organisations, and academia, we can collectively bolster our defenses against cyberattacks. 
Collaboration with universities and academic institutions was stressed as a way to bridge the gap between industry needs and educational programs, ensuring that the next generation of cybersecurity professionals is well-prepared.
Collaboration with various stakeholders, including international partners and other domains, was highlighted as essential for addressing the evolving challenges in cybersecurity. This allows for sharing of threat intelligence, best practices, and research to accelerate our ability to stay one step ahead of cybercriminals. In an interconnected digital world, collaboration is the linchpin to enhancing overall cybersecurity resilience and protecting critical infrastructure and sensitive data.
Catch up on the event below: