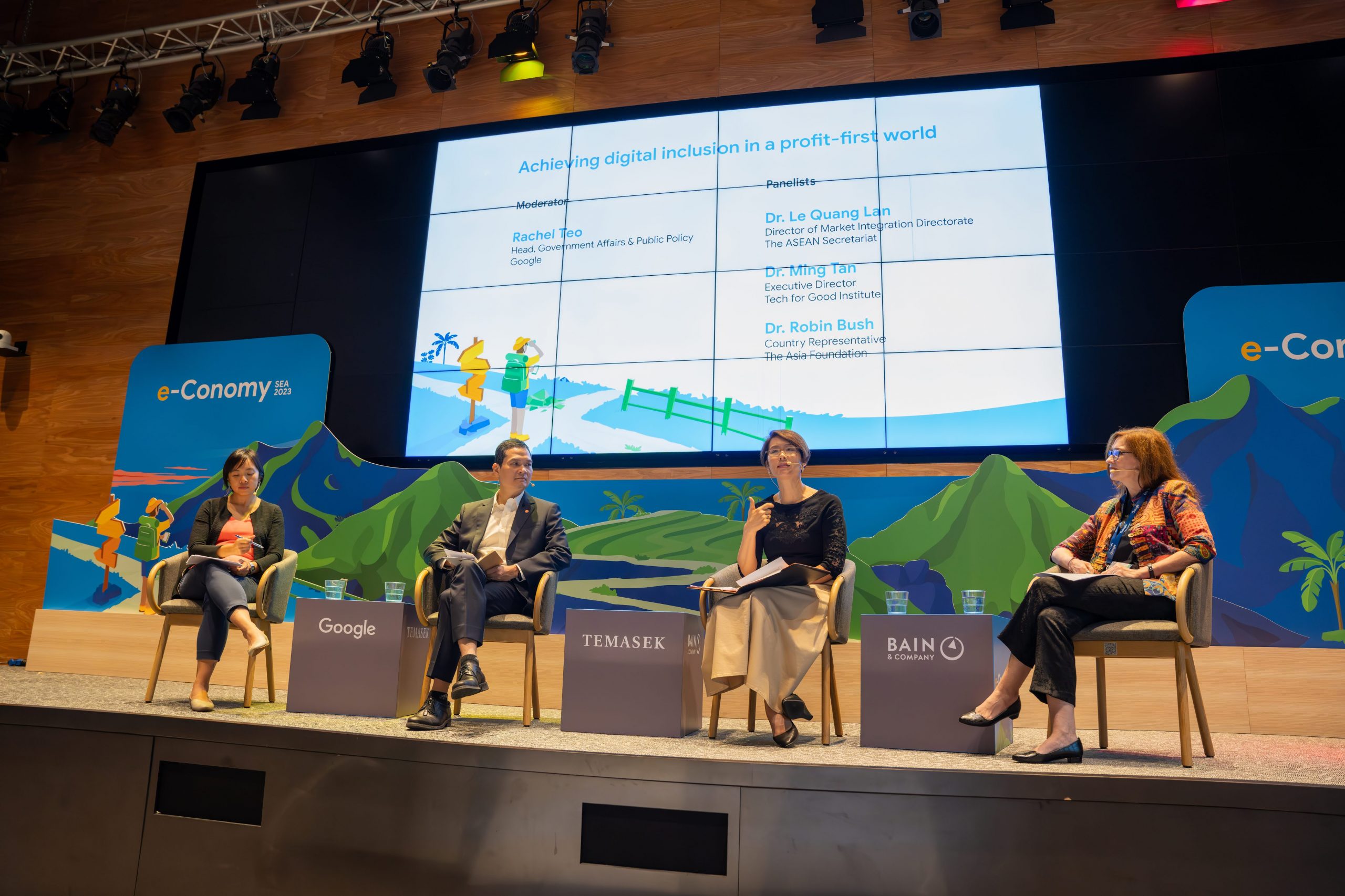 (
Photo Credit: Google Singapore)
Left to right: Panel moderator Rachel Teo, Head of Government Affairs & Public Policy, Google; Dr. Le Quang Lan, Director of Market Integration Directorate, The ASEAN Secretariat; Dr. Ming Tan, Founding Executive Director, Tech for Good Institute; Dr. Robin Bush, Country Representative, The Asia Foundation
The e-Conomy SEA reports have tracked the rise of Southeast Asia's digital economy since 2016. In the latest edition of the report, Google, Temasek, and Bain & Company continue their comprehensive analysis of Southeast Asia's digital economy, offering insights for future growth. This year's report shares revenue data in addition to gross merchandise value (GMV) figures, providing a more detailed perspective on how businesses continue to navigate macroeconomic headwinds. Some highlights from the 2023 report follow:


Despite global economic challenges, Southeast Asia's GMV is on an upward trajectory – projected to reach $218 billion with an impressive 11% year-on-year growth. Equally noteworthy is digital economy revenue, which is poised to reach $100 billion at the close of 2023, growing 1.7 times faster than GMV.





The report underscores the importance of high-value users, who significantly contribute to transaction values – Over 70% of digital economy transaction values are made by the top 30% of SEA spenders. However, digital inclusion, particularly in non-metro areas, is a critical challenge that needs collective attention across all stakeholders.





There is a need for digital companies to demonstrate clear pathways to profitability to attract investments, especially with the decline in private funding. Yet, substantial uninvested capital remains available, signalling growth potential for the next stage of SEA's digital economy. 

Addressing key themes from the report on digital inclusion, alongside monetisation and profitable growth, the panellists discussed the role of governments, businesses, as well as nonprofits, and how it is essential for digital inclusion to be front and centre in powering sustainable growth of Southeast Asia's digital economy.


Moderator and panellists:
Key Takeaways: 
Symbiotic Relationship Between Digital Inclusion and Profitability
As digital businesses have shifted their focus to monetisation and high value users, a common misconception is that digital inclusion clashes with profitability. However, the panel emphasised that digital inclusion is not at odds with making a profit; it is, in fact, a pivotal factor in achieving sustainable profitability. Hence, while businesses naturally aim to increase their efficiency and financial prudence, they should consider lifetime customer value and potential across customer segments, recognising that digital inclusion is a rational investment in the long-term sustainability and growth of their operations.


2. Digital Inclusion as a Vital Element for ASEAN's Digital Economy Growth

The establishment of the ASEAN Digital Economy Framework Agreement (DEFA) signifies a significant milestone in the region's pursuit of digital transformation. With the ambitious goal of reaching US $2 trillion across ASEAN digital economies by 2030, it is clear that digital inclusion will be an essential driver for the region's economic prosperity. The success of this initiative may be realised through the collaboration between public and private sectors – with a particular focus on the 71 million micro, small, and medium-sized enterprises (MSMEs), which account for some 97% of all businesses in the region.
Role of Governments and Policymakers in Fostering Digital Inclusion
Governments within ASEAN countries are vital players in the digital inclusion landscape. The path to digital transformation differs for each nation, considering varying levels of development. Still, the ultimate goal is to create a coherent, interoperable regulatory framework that facilitates a seamless digital market across the region. Policies should support not only digital connectivity, but also build confidence and trust in the digital economy.


Partnerships and Collaboration for Achieving Digital Inclusion and Resilience
Digital inclusion is a multifaceted challenge that cannot be tackled by any single sector or entity in isolation. Achieving digital inclusion requires a collaborative approach involving the public, private, and philanthropic sectors. Businesses alone cannot accomplish this task, nor can governments, but together, they have the power to bridge the digital divide. Reducing barriers to access for marginalised communities, especially in remote areas, is a crucial component of ensuring that digital inclusion extends to all segments of the population. Partnership is the key to resilience and ensuring that no one is left behind in the digital transformation journey.

Conclusion: Shaping Technology for Societal Good
It is important to acknowledge that the digital divide persists, with 150 million in Southeast Asia, especially the underserved, lacking access to digital technologies. In a profit-first world, emphasis on catering to markets with higher purchasing power will further exacerbate existing inequalities. Yet, while retaining high-value users is essential, expanding reach to non-high-value users is critical for unlocking the next phase of growth.
Technology can be a powerful force for bridging the digital divide and driving equitable progress. The digital economy has grown rapidly in Southeast Asia, but this expansion should be a means to an end: offering increased opportunities for all, regardless of their location or economic status.
Additionally, technology should be leveraged to shape society in a positive way. It is not a passive tool but something that can be harnessed to serve the needs of the people. Stakeholders, including investors, businesses, developers, customers, and employees, have the collective power to influence the trajectory of the digital economy in Southeast Asia, ensuring that all Southeast Asians have the opportunity to participate and benefit from this digital-driven growth.

Please find more about the e-Conomy SEA 2023 report here, and register to watch the event recording here.